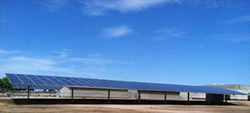 Energy Conservation is a national, state and local goal. It is imperative that we effectively manage our natural resources both now and in the future. By reducing our energy consumption, we can dramatically impact our overall operating expenses. Bringing energy awareness to all students, teachers, and other District personnel makes good sense. The Tucson Unified Strategic Plan – Green Facilities provides a strong impetus to develop a plan to control and reduce energy consumption.

Each school facility and its occupants are different from every other facility and its occupants; methods of saving energy in one school may not be applicable or suitable in another. Every school must diligently pursue any avenue of Energy Conservation that would be most appropriate for their school.

Our mission is to create a healthy and comfortable learning environment in new and existing facilities while controlling energy consumption and diverting the saved utility costs towards educational programs.

We strive to promote increased awareness among students, staff and members of the community to practice better environmental and economic stewardship.

For questions regarding energy, water, and trash/recycling at Tucson Unified, call 520-225-4673 or email Tina Cook, TUSD Energy Projects Manager.