Students Become Citizens on World Refugee Day
Posted June 16, 2015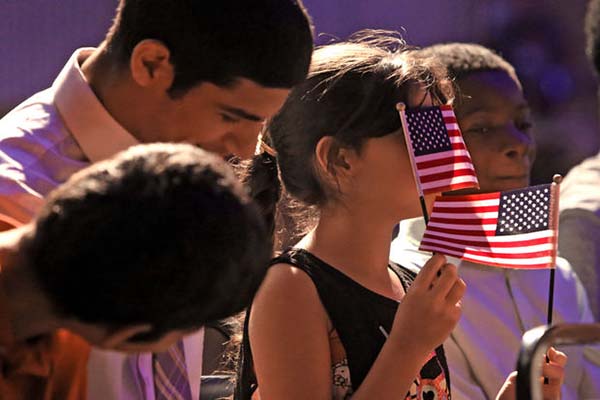 Twenty students from six countries became U.S. Citizens on Tuesday as part of a World Refugee celebration held at Catalina High School.

A representative from the United States Citizen and Immigration Services administered the citizenship oath and presented certificates to each child.

World Refugee Day recognizes the struggle, courage and strength of refugees who are forced out of their homelands and are left to fend for themselves.

Refugees come from all socioeconomic situations and all walks of life, said Charles Shipman, State Refugee Coordinator. They may be doctors, teachers, lawyers, Olympians. Only 1 percent of the world's refugees find a safe haven, he said.

Mohamed Hussein and his sister, Ruweda, were the masters of ceremonies.

Ruweda Hussein was one of the hosts, along with her brother, Mohamed Hussein.

The event was hosted by two students—a brother and sister—who are refugees themselves. Mohammed and Ruweda Hussein, both Rincon High School students, were separated from their mother for five years. Their mother did not know where they were and never gave up searching. She found them in a refugee camp and worked tirelessly to bring them all together.

Ruweda said the family feels fortunate to have found a home here, and she encouraged her fellow students to make the most of their new country.

"Let's all take advantage of all the educational opportunities in America," she said.

Reeya Monger was among the students who celebrated their citizenship. Her mother is a refugee from Bhutan, and Reeya was born in Nepali. Reeya said she was really happy to gain her citizenship because her mother worked hard to pass the test.

Nilam Subba, an incoming freshman at Catalina, performs a traditional Nepali dance.

She said she was her mother's teacher for the exam because her mother is still perfecting her English. Reeya is a seventh-grader at Doolen Middle School. This is her first citizenship in any country. Bhutan and Nepali do not issue citizenship to children.

"I'm in this stage now because of my mother," she said.

The ceremony included student dances, and other speakers at the event included Dr. H.T. Sánchez, superintendent of Tucson Unified School District, Tucson Mayor Jonathan Rothschild, who read a proclamation from the City, the Rev. Gerald Kicanas, Bishop of the Archdiocese of Tucson and Imam Khaled Alazari.

Dr. Sánchez shared a story about his father, who came to America in fifth grade and was placed in a kindergarten class because he didn't speak English. He went to work as a cowboy, and finally in 1980, he became a U.S. Citizen.

"In this nation, in this country, there are people who have open arms and who will accept others. On this campus, in this school and in this district, we want to emulate the best of America," Dr. Sánchez said. "We want to represent the America that builds bridges and provides those open arms, and provides that type of support and that type of community that the nation was founded on."

Tucson Unified School District has about 200 refugee students this year, about 500 who have been here for less than three years, and 800 to 1,000 who have been here for more than three years.

Dr. H.T. Sánchez was one of the speakers at World Refugee Day.

Bal Krishna Timsina, sophomore at Rincon High School, takes the citizenship oath.

The ceremony included awards for outstanding volunteers who work with refugee families. They were: Sister Alette Latorre McCracken from Catholic Community Services, John O'Hanlon from the Karenni Konnection, Dr. Frez Hillian from the Iskashitaa Refugee Network and Mr. Purna Budathoki from Refugee Phoenix and is former president of the Bhutanese Mutual Assistance Association of Tucson.

The celebration ended with the children on stage, certificates in hand. They were asked to come forward and say a few words—thank mom and dad, perhaps. They squirmed, smiled—were clearly tempted to go up but were just a little shy.

Finally, Bal Krishna Timsina, a sophomore at Rincon High School, volunteered to go up and get the ball rolling.

He walked up to the podium and simply proclaimed, "God Bless America!"