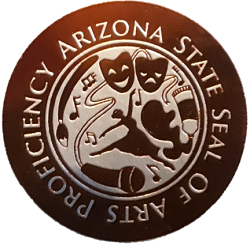 46 TUSD Graduating Seniors to Receive the Arizona State Seal of Arts Proficiency
School Year 2019-2020 is the inaugural year for qualifying seniors to receive the Arizona State Seal of Arts Proficiency on their graduation diploma. We are proud to announce that 46 art scholars, from eight Tucson Unified School District high schools, created capstone projects in music, dance, visual art, theater, and media arts that were adjudicated to be worthy of recognition from the Arizona Department of Education.
The recent addition of the arts seal joins two other proficiency seals Arizona seniors can earn. In a two-year process, it was first proposed by the Tucson Unified School District Fine and Performing Arts Department to the Arizona Department of Education's Office of Arts Education, and Arizona Arts Advocates. Senator Paul Boyer sponsored the idea with bipartisan support, and the program was signed into law by Governor Doug Ducey on May 14, 2019. The State Board of Education adopted board rule for this law on October 28, 2019.
Even though the final semester for the class of 2020 has been filled with many challenges, the committee charged with vetting the students' art did not want their hard work to be overlooked. The school closure prompted students to creatively design methods to present their work online and final interviews were conducted through Zoom.
According to Dr. Joan Ashcraft, Director of Fine and Performing Arts, "We are proud to have been at the forefront pursuing and creating the Arizona State Seal of Arts Proficiency. TUSD has exceptionally talented young artists, who have excelled academically, artistically, and socially to achieve this unique distinction on their high school graduation diplomas. We look forward to witnessing the amazing art our students will produce in the coming years."
Additionally, The University of Arizona Fred Fox School of Music will be recognizing those qualifying students with a $1,000 Fine Arts Tuition Scholarship that will be renewable for qualifying students. Dr. Rex Woods, Director (Interim) of the Fred Fox School of Music states, "We view this as an exciting opportunity to continue our long and rewarding relationship and our shared mission of educating the next generation of young artists in our community."
Congratulations to the TUSD Class of 2020 students for receiving the Arizona State Seal of Arts Proficiency!