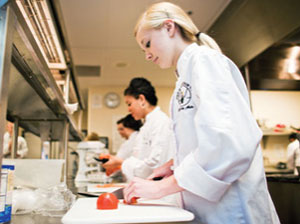 Using a variety of cooking methods, work alongside professional chefs skillfully dishing up American and international cuisine with artistic presentation. Study nutrition, food trends, menu planning, food industry management, safety, and sanitation procedures. Learn the safe use of knives, utensils, commercial kitchen equipment, stoves, grills, etc. Earn your ServSafe Food Safety Training and Certification and Arizona Food Handler Card.
Offered at Catalina, Sahuaro and Santa Rita
Scope and Sequence
Culinary Year 1 (in PDF)
Culinary Year 2 (in PDF)
Careers
Chef
Pastry Chef/Baker
Restaurant/Bakery Owner/Manager
Prep Cook
Food Engineer
Food Service Manager
Dietician
Posted/Revised Date
01-12-2023
Summary
Information about Tucson Unified's Culinary Arts CTE program for high school students.
Keywords
article, 2022-2023, school, tucson, career and technical education, CTE, high school, culinary arts