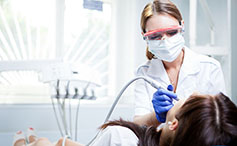 Dental Assisting gives high school juniors and seniors a chance to learn the roles and responsibilities of a dental team. Students will develop skills to work successfully with patients and co-workers in dental offices and clinics.
These courses are offered in a traditional five days per week setting or as part of the
Extended Day Program,
after school three days per week, from 3:30 - 5:30 pm.
Transportation and supper are available to all after school students!
These courses are available to all TUSD high school students.
Offered at Santa Rita High School
Scope and Sequence
Dental Year 1 (in PDF)
Dental Year 2 (in PDF)
Careers
Dental Hygienist
Radiologist Technician
Surgical Technologist
Neurodiagnostic Technologist
Endoscopy Technologist
Posted/Revised Date
01-12-2023
Summary
Information about Tucson Unified's Dental Assisting CTE program for high school students.
Keywords
article, 2022-2023, school, tucson, career and technical education, CTE, high school, dental assisting