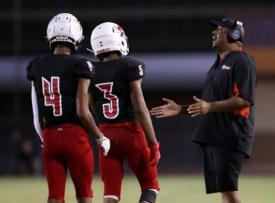 Santa Rita High School has named Douglas Smith, Dysart High School (El Mirage) Defensive Coordinator, as its new Head Football Coach starting the 2023-2024 school year. Smith spent the last 4 seasons with the Demons coordinating a defense that helped resurrect the football program, culminating in a remarkable 52 sack campaign in 2021.

Prior to his time at Dysart, Smith led defenses at both Barry Goldwater and Shadow Mountain, as well as serving as the Head Wrestling Coach at Bourgade Catholic, North Canyon, and Shadow Mountain High Schools.
"I'm very excited to be named the Head Football Coach at Santa Rita High School and look forward to building a football program that everyone associated with the school and community can be proud of every time they reminisce about their time here. We will set out to get our students engaged and excited to participate in the program and restore the 'soar' for Eagle Football," Smith stated. "I feel I am the right guy, this is the right time and I can't wait to get started."
Santa Rita High School Principal Tamara Ray said "We are excited to have Coach Smith as our new Head Football Coach. I feel he is up to the challenge and will help inspire our students as Santa Rita."