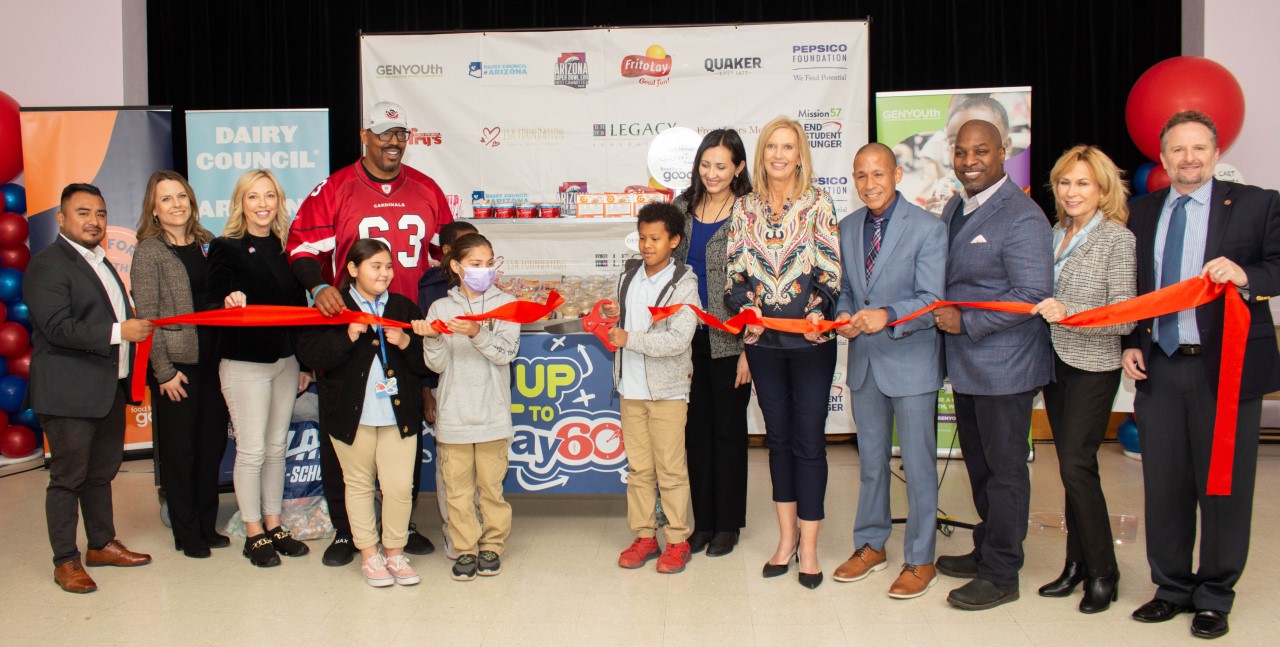 As part of celebrations surrounding Super Bowl LVII on February 12, 2023, GENYOUth, the national nonprofit organization founded by America's dairy farmers and the NFL to create healthier school communities, expanded its Super Bowl Mission 57: End Student Hunger Initiative to include nine Tucson Unified schools.

Students at John B. Wright Elementary School – along with former Arizona Cardinal and NFL legend Michael Bankston, and school district and government and community leaders including Tucson Unified School District Superintendent Dr. Gabriel Trujillo and Pima County School Superintendent Dustin Williams – helped celebrate the arrival of the school meal equipment, which include breakfast/meal carts, mobile milk coolers, and NFL FLAG-In-Schools kits.

Along with Wright Elementary, the Grab and Go meal equipment packages were donated to Catalina High, Dietz K-8, Morgan Maxwell K-8, Myers-Ganoung Elementary, Palo Verde High, Pistor Middle, Pueblo High, and Secrist Middle.

The donation to Tucson Unified is part of Mission 57's larger commitment to providing schools throughout Arizona with a total of 57 equipment packages to help tackle food insecurity and increase physical activity in the lead up to Taste of the NFL, Super Bowl LVII's premiere purpose-driven culinary event, on Saturday, February 11, 2023 at Chateau Luxe in Phoenix. With additional support provided by BHHS Legacy Foundation, Fiesta Bowl Charities, Fry's Food Stores, the ISA Foundation, and Frontdoors Media, Mission 57 will provide access for over 31,000 Arizona students to over 8.5 million school meals.

"Grab and Go meal equipment is proven to be highly successful in increasing access to and participation in school meals, by reducing barriers to school breakfast in the cafeteria including lack of time and stigma. This is particularly important in Arizona, where nearly one in five1 children are living in food insecurity yet the state ranks in the bottom half of all states in school breakfast participation2," said Ann Marie Krautheim, M.A., R.D., L.D., CEO of GENYOUth. "We are grateful for the ongoing support of Frito-Lay, Quaker, and the PepsiCo Foundation in providing critical funding for school nutrition equipment in Tucson Unified and Casa Grande Elementary school districts."
"In the Tucson Unified School District, 77 percent of students qualify for free or reduced meals3. Having a nutritious school breakfast is a critical lifeline to help our students learn, thrive, and succeed in the classroom," said Dr. Gabriel Trujillo, Superintendent of Tucson Unified School District. "I would like to thank GENYOUth, Frito-Lay, Quaker, the PepsiCo Foundation, and the Arizona Super Bowl Host Committee for their donation of new Grab and Go meal equipment packages to nine of our schools and for their commitment to support students in Tucson and across Arizona."
"I am proud to be supporting Mission 57: End Student Hunger in Arizona and participating in today's school event in Tucson Unified School District," said Michael Bankston, former Arizona Cardinal and NFL legend. "Tackling student food insecurity needs to be a top priority, as daily school meals along with regular physical activity leads to improved performance and outcomes."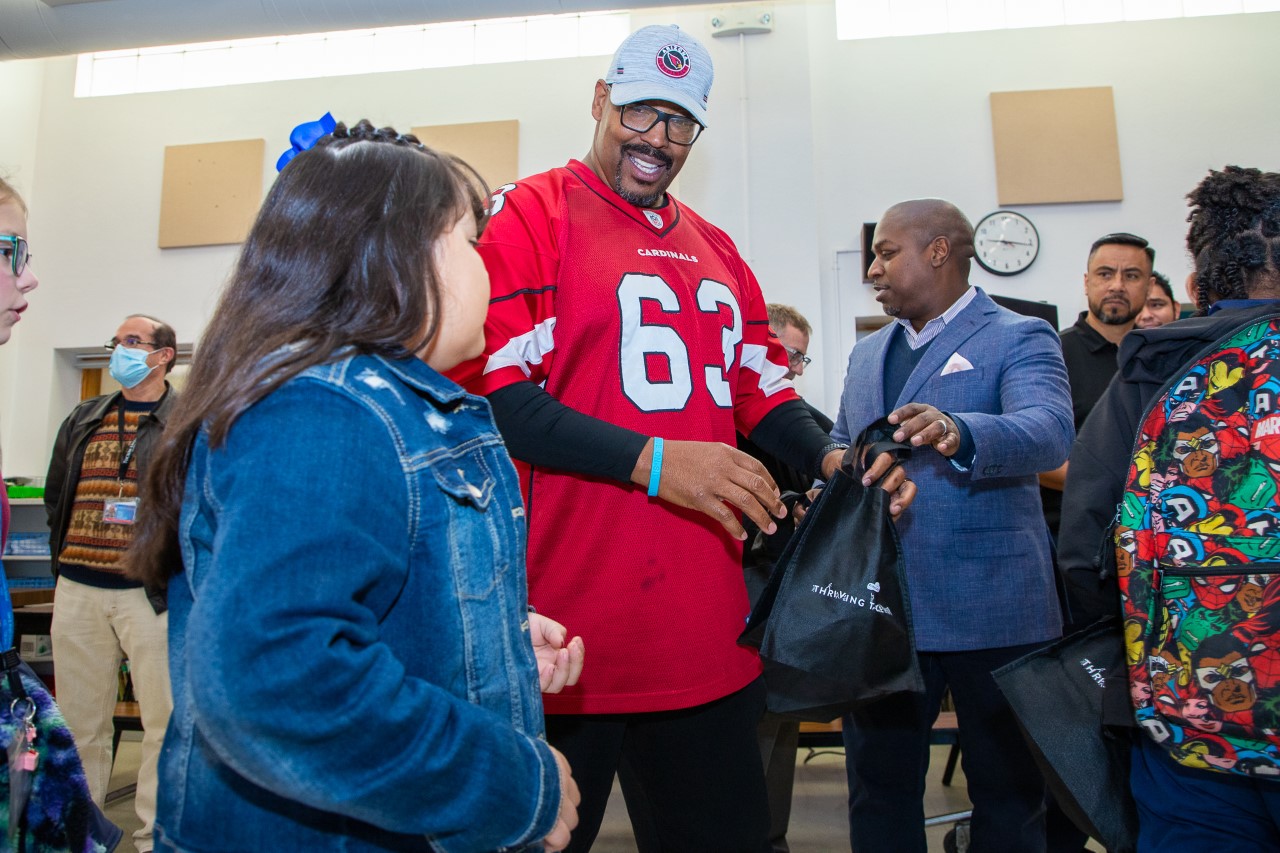 "Frito-Lay and PepsiCo Foods North America are proud to support GENYOUth in providing resources to address food insecurity within Arizona schools," said Steven Williams, CEO, PepsiCo Foods North America. "With the support of the PepsiCo Foundation, Frito-Lay and Quaker, we are committed to addressing the needs of the communities in which we serve and providing the necessary resources to enable them to thrive."
"With our long-standing history of uplifting the communities where we live and work, Frito-Lay, Quaker and the PepsiCo Foundation – through the Food for Good program – are providing equitable access to critical resources to help food insecure communities throughout the United States," said C.D. Glin, President, PepsiCo Foundation, and Global Head of Philanthropy, PepsiCo. "Supporting GENYOUth's Mission 57 and Taste of the NFL initiatives allows us to continue our focus on and commitment to Arizona's most vulnerable population – food insecure students. Through Mission 57 alone, our support – which includes a total of 22 Grab and Go meal equipment packages in high need Arizona communities -- will impact over 12,000 students and help increase access to over 3.3 million school meals."
"The Arizona Super Bowl Host Committee is proud of the work that Mission 57 is doing to create long-term social and economic impact across high need Arizona school districts. As we head into the Mission 57 home stretch leading into Super Bowl LVII, we thank GENYOUth and all partners and supporters who are making students' health and well-being a top priority today and for years to come," said Jay Parry, President & Chief Executive Officer of the Arizona Super Bowl Host Committee.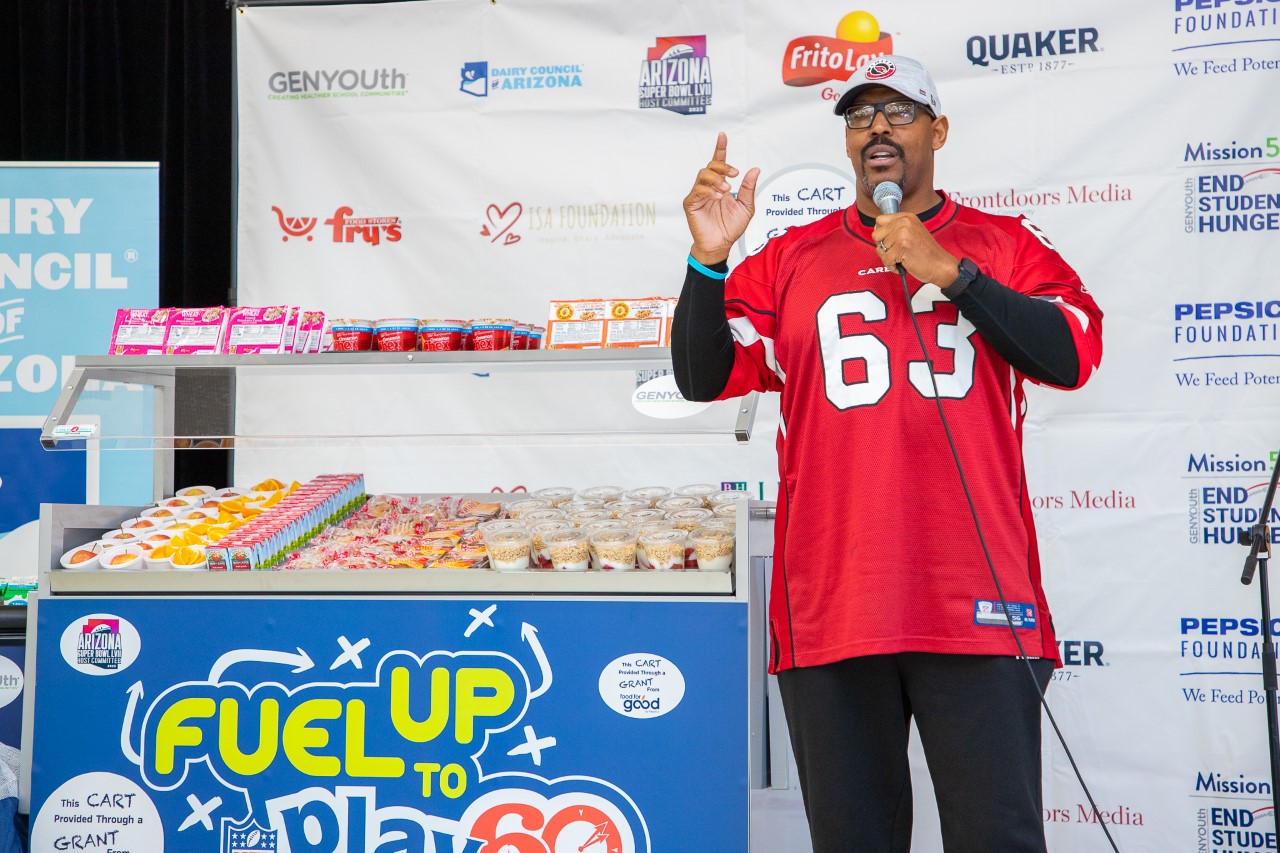 "Dairy farmers in Arizona and throughout the nation are committed to the health and well-being of America's children. We are proud to be partnering with GENYOUth and other partners to ensure students can participate in school meals and have access to nutritious dairy products," said Tammy Baker, General Manager, Dairy Council of Arizona.

Learn more about helping GENYOUth end student hunger.

1 Stacker via Feeding America data (2020)
2 Food Research & Action Center
3 MMS