In Loving Memory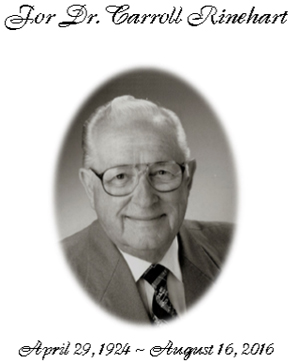 Carroll A. Rinehart was born in Bellville, Ohio, to Glen C. Rinehart and Lydia (Hildebrand) on April 29, 1924, and died on August 16, 2016. After serving in the Army during WWII, he graduated from Ashland College in Ohio and then earned his Masters at Ohio State University. He brought his family to Tucson in 1952 to teach at the UofA and then was Coordinator of Elementary Vocal Music for Tucson Public Schools (TUSD). After retiring, he continued to work with children, helping them write and produce their own original operas. He was a composer and author, and used his knowledge to help others in workshops and as a mentor. He was active in the Rotary Club, First United Methodist Church, and served on boards for Tucson Symphony Orchestra, Tucson Federal Credit Union, and Society of Southwest Authors. He was also one of the founders of the Opening Minds through the Arts program for TUSD.

Read more about Carroll Rinehart (in PDF)





Gene Jones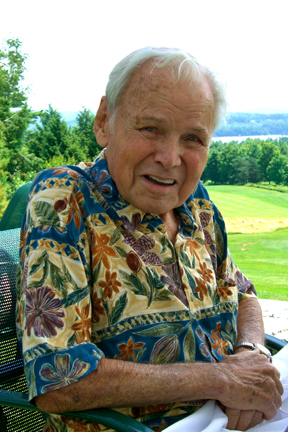 Opening Minds through the Arts of Tucson Unified School District (OMA-TUSD) would like to pay tribute to the life of H. Eugene Jones, an icon in the Tucson philanthropic community. Opening Minds through the Arts owes a great debt to Gene's vision and financial generosity. As one of the founders of OMA, Gene helped bring the joy of creative education to tens of thousands of children in TUSD schools.

Gene had a remarkable life. A Dartmouth College graduate and decorated World War II bomber pilot, he made his fortune as a business entrepreneur who transformed failing companies into multi-million dollar businesses. Gene and his wife Ruth first moved to Tucson in 1978, where his personal love of music motivated him to direct his energies and resources to the promotion of arts education, as well as serving the Tucson Symphony Orchestra as a member and president of their board of directors. One of his later accomplishments was receiving the prestigious, national Purpose Prize in 2007. The $100,000 award by Encore.org, with funding from the John Templeton Foundation and The Atlantic Philanthropies, is given to people over 60 years of age who are engaged in transformational social projects. In keeping with Gene's usual generosity, he donated the entire prize to OMA-TUSD.

The OMA staff and teaching artists are greatly saddened by the loss of this fine gentleman, and extend our condolences to his widow Ruth and family. He will long be remembered for his humanity and love of community. Gene Jones passed away at his home on January 9th,2013. A Memorial Service was held on April 13th at St. Phillips in the Hills Episcopal Church. The family has requested, in lieu of flowers, donations be made to OMA-TUSD, 2025 E. Winsett St., Tucson, Arizona 85719 and/or Art Integration Solutions.

Further information is available by calling TUSD Fine and Performing Arts/OMA at 520-225-4900.