AZELLA Testing and Placement for English Language Learners
Tucson Unified provides the state-approved language proficiency test and placement testing to newly enrolled students whose home language is not English.
The
Arizona English Language Learner Assessment (AZELLA)
is a standards-based assessment that meets state and federal requirements to measure students' English language proficiency. Students who have been placed in an English Language Learner (ELL) program will take AZELLA every year until they achieve proficiency.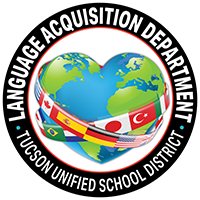 Posted/Revised Date
02-27-2023
Summary
Information about state language proficiency testing for English Language Learners (ELLs) in Tucson Unified.
Keywords
article, 2022-2023, school, tucson, english language learners, language acquisition, testing