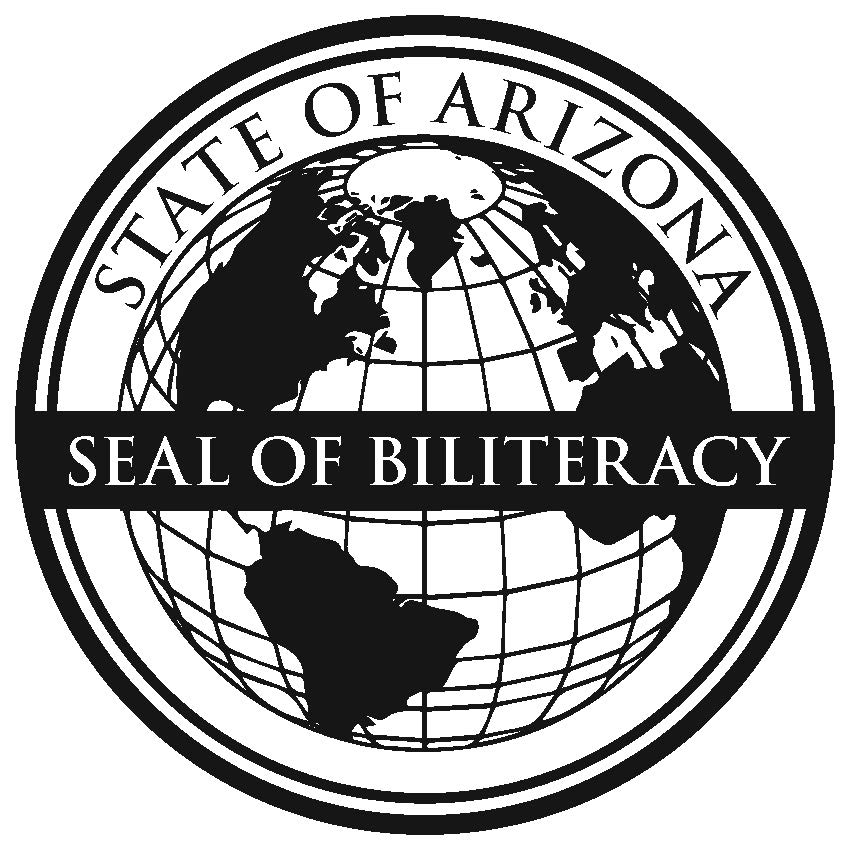 The
Arizona Seal of Biliteracy program
recognizes high school students who demonstrate proficiency in English and at least one additional language. The seal is placed on the student's diploma and noted in their transcript.
What is Language Proficiency?
Novice: The student communicates with words and phrases to express basic needs on familiar topics that have been practiced and memorized.
Intermediate: The student communicates with sentences to elaborate on basic needs.
Advanced: The student communicates in extended, organized conversation to respond to and resolve problems.
Seal of Biliteracy Eligibility
Students must complete ALL requirements listed below:
The student must successfully complete all English Language Arts (ELA) requirements for graduation with an overall grade point average in those classes of 2.0 or above on a 4.0 scale.
The student must attain the required score on an English language assessment approved by the Arizona Board of Education.

If a student has a home language other than English and is receiving English Language Learner (ELL) education in grades 9-12, the student must obtain a proficient score on the AZELLA.

Students must demonstrate proficiency in a second language through an assessment approved by the Arizona Board of Education or an alternative evidence model.
Posted/Revised Date
02-27-2023
Summary
Information for students on how to earn the Arizona Seal of Biliteracy.
Keywords
article, 2022-2023, school, tucson, world language, language acquisition, seal of biliteracy